« Since December 2015, I have embarked on a project documenting the refugee crisis through Europe and the Middle East. By tracing the refugees' origins and following their journeys, I seek to record and analyse the impact of the human conditions that we face today.
Within this larger project, I take a conscious interest in the ways displaced people communicate and connect with smartphones. To the men and women in refugee camps or on the path from their homelands to a safer place, the smartphone is the most important source and communication channel. Even when everything else is lost, they would keep their phones safe. When the refugees cross dangerous seas, they wrap their phones in plastic to protect them against the water. When the boats seem to sink, they use their phones to call their loved ones or send distress signals for rescue. During their long journeys, many also use their phones to cover what they've seen and heard.
Having survived perilous escapes from war and reached the shores of Europe, the first thing on the refugees' minds is to call home and tell their loved ones that they are safe. Their smartphones help them find loved ones who are either still at their war-torn homes or have already settled in Europe. The same devices allow them to seek help and exchange information with other refugees. Important decisions are made when they communicate with smugglers over texts or phone calls, when they discuss with others about their next moves. At every camp, charging stations and cafés with power outlets are the liveliest places, where people chat and share news. At the Idomeni camp near the Greek-Macedonian border, the refugees have even developed their own network to make announcements, share information and even find their families.
My studio and I have gathered photos of refugees using smartphones at various locations and different points of their journeys. There are also videos of mini stories about the experiences of the refugees, rescue team, and different characters involved in the crisis. A first selection of the materials from December 2015 to February 2016 is provided to the Forum Vies Mobile, as part of an ongoing, comprehensive endeavor to preserve the historic records about the refugee crisis. »
Ai Weiwei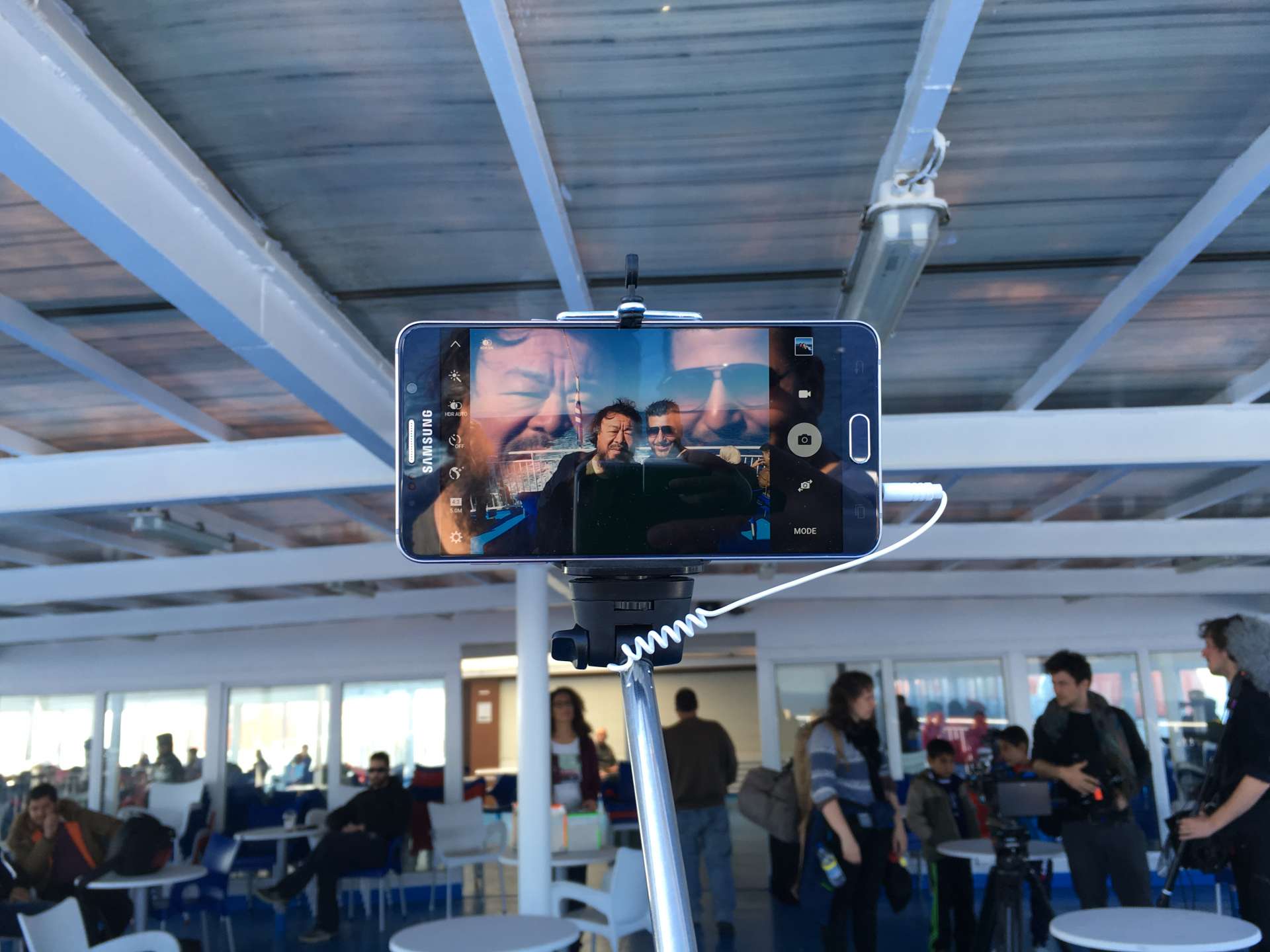 About the exhibition, by Guillaume Logé & Mimi Sheller

"Connected Refugees," the project Ai Weiwei did for the Forum Lives Mobile, is at the heart of his commitment. Discussing, photographing and filming hundreds of people on the field, the artist questions the role of smartphones and communication in general in the supporting and making of their exile. The Mobile Lives Forum invites you to discover this experimental art-science project via a two-part interview, Genesis of an artistic and political approach and The indispensable smartphone (broadcast on ArtisticLab and available at the top of the virtual exhibition page), conducted in the artist's studio in Berlin, and available on top of the main page.
This investigation can be considered relative to both the fundamental reflection developed in the film Human Flow (2017) and the very militant installations the artist has produced since 2015: columns of the Berlin Konzerthaus wrapped in lifejackets (Safe Passage, 2016), lifeboats flanking the windows of Palazzo Strozzi in Florence (2016), piles of clothing salvaged at the Idomeni camp, presented by Jeffrey Deitch in New York (Laundromat, 2016), and the monumental sculpture Refugee Rubber Boat (2017), suspended in the main hall of the National Gallery in Prague.
For more than a year, Artistic Lab has been offering its visitors the opportunity to follow the work of the artist – who gathers graphic notes (fragments, videos and photos), thus questioning the structures and political and legal mechanisms of refugee crisis management, and our sense of solidarity.
To be thoroughly appreciated, Ai Weiwei's work must be seen in the wider framework of his production and looked at through several prisms. The conceptual dimension is often pointed out by many commentators. Less perceived, however, but equally critical is the "workshop" dimension, which invites the public to participate, reconsider existing situations and test new approaches to reality. These aspects are intertwined with an aesthetic dimension wherein layers of forms and images - tweets, mundane snapshots and short films (which should be considered as video essays or photo sketches) and subtle ones are alternately convened. Can Ai Weiwei's work be understood without bearing in mind the changes that have taken place between the birth of Modern art and the present? The artist's use of wide and varied range of expressions and techniques has roots in Dada and Marcel Duchamp that extend to contemporary art, through happenings, installations, conceptual art, minimalism, pop art and even Net art. His work must also be seen within the larger framework of the historically political commitment of certain artists and contemporary art forms, such as documentary cinema and documentary theatre.
This project is just one of the artist's strong commitments to humanitarian and social causes (his past work includes an investigation of corruption in the building of schools that collapsed during the earthquake in Sichuan in 2008). With his newfound freedom of movement, this is the first time he has undertaken a work of such magnitude outside of China (setting up his own workshop on the island of Lesvos, in Greece), both in terms of the means used and its geopolitical significance.
Ai Weiwei is one of the first artists to have incorporated the use of smartphones in his work. This communication tool plays a critical role in refugees' exile. The artist's vivid images of people using, charging, and assembling around phones remind us of the fragility of the connections and larger systems we all depend on to make life work every day, but often take for granted. A phone call seems like a simple thing, but imagine how hard it is while on the move, as a refugee, to have a working phone with the numbers you need to call, a charged battery, power cords, converters and the right SIM card. What if your survival depended on it? What if your ability to find your loved ones, or to get money, or to plot your next move, all depended on that mobile connection?
Mobility seems to always be wedded with communication capacities, almost as if without communication we would cease to be able to move. How would we know our route, our mode of travel, our destination, our options, if we were unable to communicate? How would anyone know where we were? Locating oneself is crucial to being human. Ultimately the refugee is a dis-located person for whom the mobile phone is a locational device that maintains their connection to the world, and in some ways therefore to their own humanity. Rescue is not just a shoreline and a water bottle, refuge is not just an emergency blanket and a temporary shelter, it is also a phone to call...someone. How do refugees "reassemble the social," both in human terms and with technological artifacts, with things near and distant, in the words of the French sociologist Bruno Latour ? The social, in other words, requires more than just people and language: it also relies on background infrastructures such as phones, plugs, electricity, satellites, data plans, metal mines, and all the other equipment that we use to assemble our selves.
Since Bowker and Star' (1999) seminal work on information infrastructures, there has been a renewed focus in science and technology studies, media studies, cultural geography, and mobilities research on the technological and material side of communication and media. Media are about mediation and remediation: we now think of communication media not just as sending messages but also in terms of articulating order and disorder, stabilization and flexibility, maintenance and repair. One of the key issues in information infrastructures is their visibility only upon breakdown, along with their fragility and saturation. These images make that potential for breakdown visible by showing how important mobile phones become for those on the move. The world seems more disorderly and dangerous when you cannot make a simple phone call, so in many ways mobile connectivity is a new form of refuge and a basic need of the refugee.
Finally the photos help us to identify with the refugees, depicting them not as bedraggled survivors in an acute situation of near death, as has become common in the media, but as normal people making their way on a difficult journey. The people in the photographs are not just passive victims of "traffickers", but it is they who traffic through their own communicative agency. A rescuer hands out hot drinks, but a man is immersed in his phone screen, not even looking up. They remind us of ourselves as travelers, or even as commuters: what do we carry with us, how do we find our way and stay in touch when we move? And what of our humanity do we have to leave behind when crossing borders? Can phones help us recover ourselves?
Guillaume Logé & Mimi Sheller



See the research project page : http://en.forumviesmobiles.org/project/2014/09/11/exploring-urban-rural-migration-china-2571
Back to the exhibition